I'd like to start by saying a huge thank you to all who sponsored and supported me. We managed to smash the £1500 fundraising target for The Together Trust, thanks in no small part to the whopping £1003 donated by som3 and my amazing colleagues making up a big portion of the rest. The total with Gift Aid being around £1800!
I'd also like to say.. "I'm not doing that again" however the rose-tinted spectacles have started to kick in and I've already entered the ballot to get a place in the 2022 London Marathon!
The overall experience of the London Marathon is fantastic. We travelled down to London on the Saturday to get our bib numbers at the ExCel and hand in our post-race bags. A nice Italian meal with lots of pasta the night before and an early start on the big day to cram in a load of breakfast took care of the carb-loading. I just wish I could have slept – a mixture of nervous excitement and an 04:02 WhatsApp notification put pay to the good night's sleep I'd planned!
That morning we all split into our start waves where there were endless queues for the toilets where runners were dealing with last minute nerves. Once the wheelchairs and elite runners had gone it was suddenly go-time and we were off! I found myself surreally running in the actual London Marathon, a point hammered home when I saw Buzz Lightyear running with a rocket strapped to his back and Bender the Robot from Futurama had good pace!
The stewards and crowd were amazing, there were bands in the middle of roundabouts, pubs with massive sound systems blaring and people of all ages shouting, "you've got this"! Which was amazing for the first half and I really enjoyed running round the sights such as the Cutty Sark and Canary Wharf – it was somewhat unexpected when we took a hard right and suddenly we were on Tower Bridge – Awesome!
I'd been running with some energy gels and taking on a little water at some of the water stations. All was going well; my pace was good and I was heading for a sub 3 ½ hour time until 17 miles when I suddenly hit the wall! My head was fine, my lungs were fine, but every bone, muscle, sinew and fibre in my legs and feet was now locked up and really painful. 9 miles is a decent run at the best of times but feeling like that I couldn't imagine finishing. I had to back off completely and take each kilometre and mile at a time.
I felt my sub 3 ½ hour time slipping away, but my new focus was now just to finish. Every time I saw someone running in an outfit or dressed up as a character, I just couldn't believe what they were thinking or how they were doing it. Some runners I saw included someone dressed as a tree, Prince Philip in full suit, shirt & tie, an Aston Martin F1 Driver in full fire-proof race suit & helmet and Spiderman! Hats off to them, they must be mental!!
The final push was very welcome, but I was in bits and the final 2 miles seemed to go on forever but seeing Buckingham Palace and rounding onto the Mall was amazing. I could see what I thought was the finish, but I wasn't sure. I was focussed on the people beyond that point and they'd all stopped running so I went for it, sweaty and in pain, but I crossed the line having managed a 3hr 50-minute time, so a sub-4-hour time that most people target. Even better than that I beat Bender the Robot!
We'd planned to go for Guinness & Black straight after the race but given the state of my legs a spa was required, STAT! We did go to the pub once we could walk again; the atmosphere was fabulous and Sunday Lunch never tasted so good!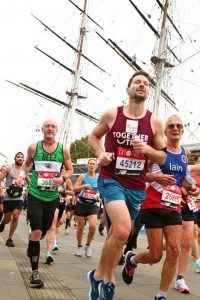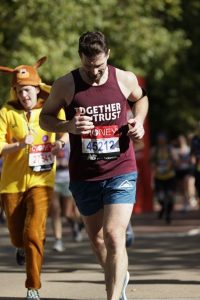 My advice: If you're minded to run a Marathon, do the London one, it's epic! Do more training than I did to avoid hitting the wall and wear some kind of dress-up outfit if you can manage it as the crowd will really get behind you. That said if you're not sure, don't do it – it hurt!
-Neil Bryers
Operations Director