We've had a stack of protective face masks made up to keep our Colleagues, Customers & Valued business contacts safe during these Covid-19 times. Inspired by the Formula 1 teams track-side versions we can pretend we are on the Formula 1 Paddock every day in the office as we socially distance from each other and romp on trying to work our business out of the slight hiccup that 2020 has presented to us!.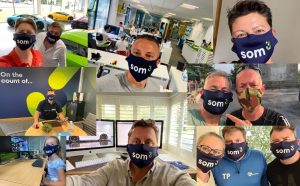 If you fancy one then give us a shout, however we will be expecting a selfie of you wearing it proudly promoting our brand out there in the wild.
Keep safe out there people, but let's get on with business and get our economy back as best we can.
Yours
Team som3